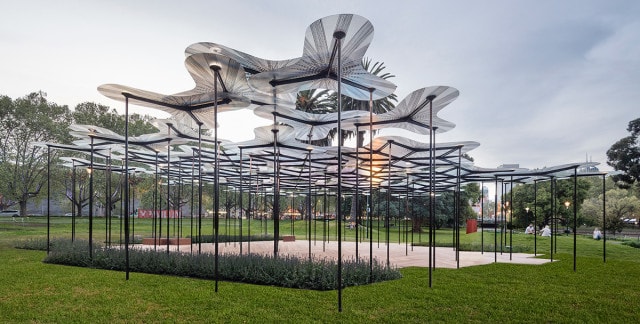 I am involved in three projects in this year's Melbourne Festival.
GLOAMER
My new six-channel sound installation for MPavilion, 'Gloamer', is featured nightly at sunset as part of the festival. The work is for resonant metallic percussion instruments, sine tones and gestural microphones, and was composed in response to the unique design elements of Amanda Lavete's MPavilion, synced to an immersive lighting design by bluebottle. If you miss it as part of the festival, the work's season will be continuing until Febuary 2016. More info here.
A WAVE AND WAVES
Speak Percussion and Melbourne Festival present the world premiere performance of a major work for 100 percussionists by legendary USA composer Michael Pisaro.
In this rare, deep listening experience the audience sits among the performers to experience the music as if part of an ocean of sound. Colossal percussive waves are created by layers of imperceptibly soft sounds— sandpaper on stone, seeds falling on glass, bowed bells—forming a textural landscape bristling with detail. More info here.
15-17 October 2015
7.30pm (duration 1h 15min)
Meat Market, North Melbourne
NYX 
I acted as an Advisor during the creative development of Antony Hamilton's new work, NYX. Antony is one of Australia's most interesting choreographers, definitely check this out!
In a vast, echoing chamber, four women contort and writhe, merge and morph, creating and destroying worlds with every flick of their limbs. Pounding drums supercharge the air as gods and demons vie for supremacy. This is the drama of creation and the divine comedy rolled into one eye–opening, sense–tingling whole: a place where the body and primitive technology has become one and the same. More info here.
Thu 8 Oct — Sat 11 Oct, 7.30pm
Sun 12 Oct, 2pm & 6pm